Tuesday, April 28th, 2015
Lots of places claim Edgar Allan Poe. He was born in Boston in 1809, was orphaned and brought up by a wealthy family in Richmond, effectively his foster parents, the Allans. After He lived at various points in Baltimore, Philadelphia and New York, and he was on a trip home to New York in 1849 when he died, in Baltimore. He's probably the most famous drop out from the University of Virginia (but it was rare to attend college or even high school in the early 1800s).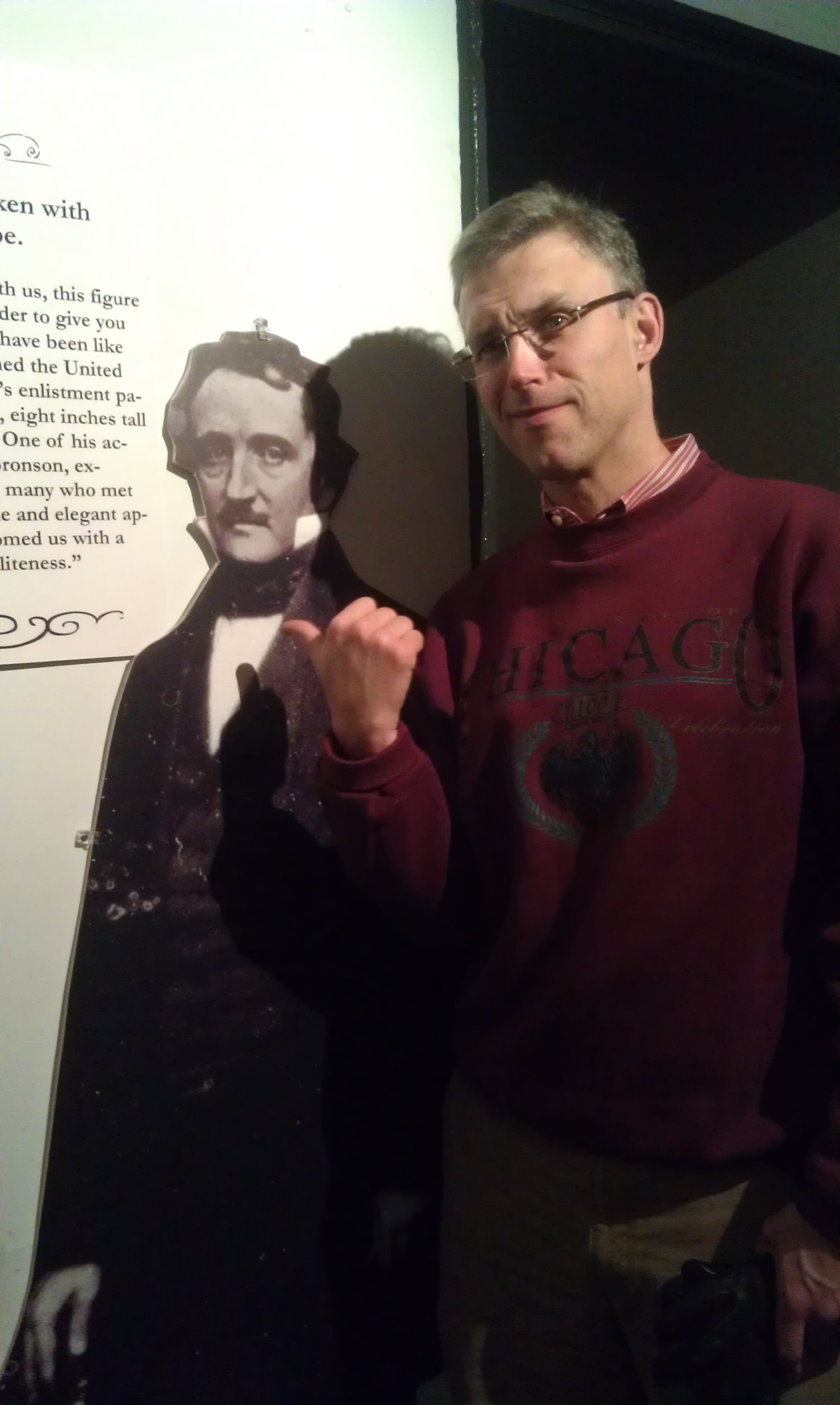 Richmond is the place where he spent the most time, about a third of his life. The
Edgar Allan Poe museum
there gives a great overview of his brief life and his work. I was fortunate to tour it, not least because I was in Richmond in 2013 for a Society of Professional Journalists' training, and the museum's curator gracious
ly opened the museum for my group after hours. (I originally wrote these notes up in Evernote on a trip to Panama more than a year ago, but Evernote lost them and I didn't get around to re-writing them until now).
The Poe Museum has the twin bed he slept in when he lived with the Allans, a staircase from his house, and the half-chair he used at his first job, as editor of the Southern Literary Messenger, based at 15th and Main in Richmond (the building is still there). The publisher of the magazine believed that chairs with full backs made for lazy writers. You can see it, along with his desk, at the picture to the right, taken from the Museum's web site.Despite his famously sallow face in the picture most of us know, taken not long before his death, he was a popular young man, average height, a good athlete who set a record in a Richmond swimming event that may never have been broken. He could swim, but he apparently could not hold a drink, ever, having apparently a near-allergic reaction to even small amounts of alcohol, a problem at a time when many people drank beer instead of water, because the beer was purified.
He had a kind of ramshackle life, often in love, usually disappointed. His financial affairs were as bad as his romantic ones, maybe worse, a preview of the life of most professional writers (Poe was one of the first Americans, perhaps the first, to try to make a living solely from writing). His death remains a mystery, which while seemingly fitting for a writer of creepy horror stories, would have angered him as a critic and a writer. He expected, and strived for, as I learned, works that led unerringly to a specific point or truth. This biographical essay from the Poetry Foundation gives more on his gifts, the controversy created by his petulance and provocative style, and his analytical approach to writing, one that underpins modern fiction and criticism.
The museum contains a first edition of his first book of short stories, many of his letters and journals, and a good representation of his work. The scope of his work impressed me. I thought of Poe as a pioneer of Gothic fiction, horror stories and as a decent poet. All true, but he really was a founder of the modern short story, more or less invented detective fiction and wrote some of the first science fiction, including stories with cyborgs, space travel and flying machines. He also may have been the first to propose something akin to the Big Bang (here's a nice little piece on Poe's Big Bang and cosmological ideas that I wish I had pitched). He was an important literary critic, and also was a Southern writer before there was a Southern school of writing. In his literary criticism he poked at the literary establishment of his day, which was largely based around Concord, Mass.
I loved that the Poe Museum has a garden with all the trees and flowers he mentioned in his writings. In daylight, and in season, it would have been fun to look at them and try to match them with the stories and poems. A love poem, "To One in Paradise," hangs on one of the walls at the museum, describing the "dream too bright to last" of one his youthful affairs. His sorrowful status seems to inspire emotions in modern readers, as you can see from the bust below, which sits in the garden: